Writing
Writing at St Aldhelm's Church School follows a carefully sequenced progression mapped across units, within and across years and genre. All writing projects will have a clear audience and purpose to achieve coherence, including poetry and editing. At St Aldhelm's Church School we use a variety of stimuli to inspire writing opportunities including quality texts, experiences and cross curricular learning.
A mastery approach is adopted during English lessons. Teachers are aware of where children are currently 'at' and use flexi groupings to ensure children are given opportunities for further practising, applying and extending skills. Teaching staff work with a range of children throughout the week. Adult led guided writing sessions are used to teach key skills and model effective writing practice.
Writing shows crafting over time and children being given opportunities to edit and improve their writing, resulting in a 'final' version. Targeted skills sessions support children in their spelling, punctuation and grammar development. Teachers have a clear understanding of the grammar terminology for their Year group and use the terms explicitly when writing. There is an expectation that children use the correct terms, too.
Spelling
Phonics and spelling teaching typically follows the revise, teach, practise, apply and extend format. Time is given for children to investigate and apply their understanding of spelling patterns and rules. From Year 1, we use Spelling Shed (based on National Curriculum) as the main scheme of work.
Handwriting
Presentation is important at St Aldhelm's and we are committed to providing the children with the skills necessary to write their work fluently, legibly and eventually with good pace. Each year the school's Presentation Agreement is shared, displayed in books and referenced. From Reception, children are taught letter formation as part of our phonics sessions using the Unlocking Letters and Sounds Patters (see patters to support handwriting formation). The Focus in Reception and Year 1 is on accurate formation, size, position and orientation so that in Year 2 they can rapidly start to join. We also implement activities which support and develop fine motor skills. Children of all abilities are expected and able to present their work to their highest possible standard increasing their confidence and self-esteem. We present handwriting certificates and pens to those that have met the expected standards. In Year 6, all children can write in pen.
The Perfect Handwriting Position
Feet flat on the floor

Bottom right at the back of the chair

Shoulders down and relaxed

Back leaning forwards slightly

Left/right hand holding the page

Left/right hand in a tripod grip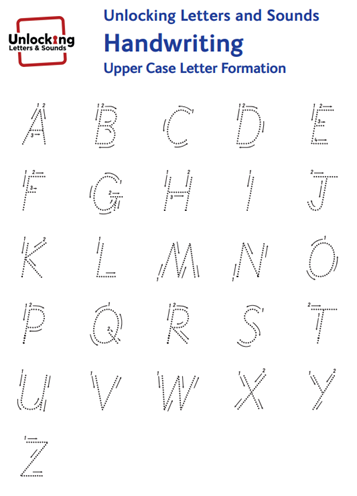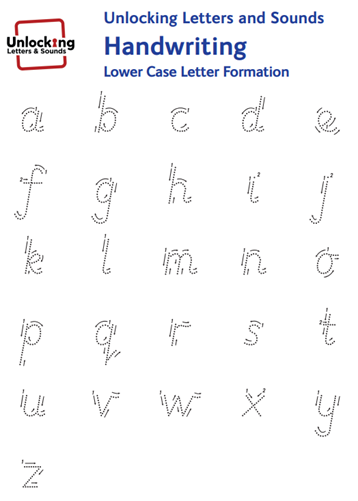 Targets
For personal writing targets, children from Year 1 upwards are set ladder targets. Children have one or two specific targets that are intended to secure and move their writing on within a reasonable timeframe. They have green target cards, which they are encouraged to refer to during all types of writing across the curriculum.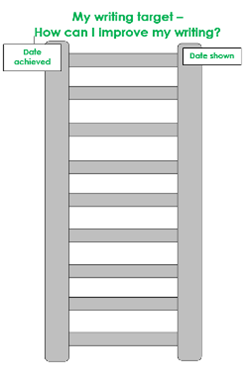 Review, Feedback and Marking
We place great importance on children taking responsibility for their learning. Learning foci and the skills that are needed within each piece of writing will be shared with children before writing commences. These may have been created from analysing quality texts to create class Success Criteria for their own writing. A consistent, but progressive, Success Criteria is used across the whole school for writing during the 'scaffolded and building' stages of writing. Where possible, marking is 'live' within the lesson against the Success Criteria for the greatest impact. See Feedback and Marking policy for more information and marking codes.
We encourage children to consistently and carefully check their own writing against the Success Criteria and to spot any spelling, punctuation and grammar errors as well as making stylistic improvements. Children are encouraged to take on the role of an editor and improve their own writing using a Purple Polishing Pen to indicate clearly any changes made during polishing time. Children are given opportunities to craft and improve their writing over a period of time. We use Editing Partners to encourage meaningful dialogue between children and encourage them to support each other in their learning. Editing Stations may also be used, which allow children to focus on one aspect in that location to make the editing process more targeted.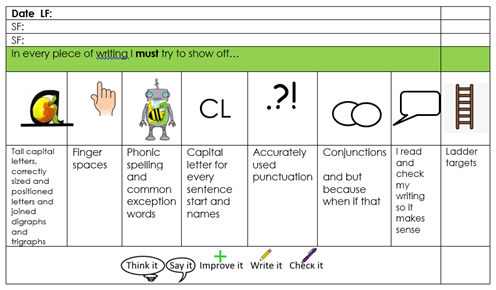 Watch our Writing Grow boards are used in each class with a section for each child's writing which will be updated termly (6 times per year) to allow progress to be seen.