PSHE
St Aldhelm's PSHE Curriculum Intent
The philosophy and intent for our PSHE curriculum is about valuing and respecting every individual for who they are, and empowering them to be happy, healthy and compassionate human beings, international citizens with agency.
Our school follows the PSHE Jigsaw programme in order that we can enliven the Jigsaw philosophy in our school and family communities across the world, ultimately making the world a better place.
Jigsaw PSHE is fully compliant with the DfE Statutory Relationships & Health Education Guidance. The Curriculum Map (link below) provides the guidance to Jigsaw PSHE 3-11 by Year Group and Puzzle (unit of work) showing the depth and breadth of the curriculum coverage. The numbers in the boxes refer to the lesson plan in that Puzzle (unit) that contributes most to the specific statutory outcome.
Not only does Jigsaw meet all statutory RSHE (Relationships, Sex and Health Education) requirements, but it builds the positive, inclusive and caring ethos of the school and elevates educational outcomes by empowering children's self-regulation, emotional literacy and self-belief. Jigsaw PSHE makes a significant contribution to personal development, SMSC, British Values, the Equality Duty, Safeguarding and to Ofsted outcomes, but most importantly it keeps children at its very heart.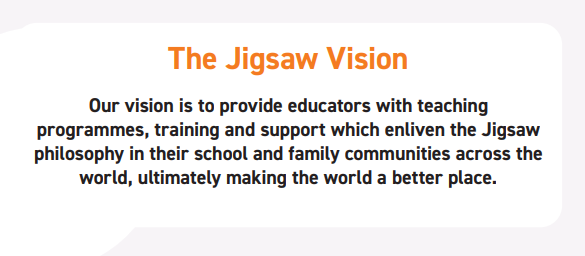 Jigsaw Approach Structure
Jigsaw consists of six half-term units of work (Puzzles), each launching with a whole-school assembly (with original Jigsaw song) and containing six lessons, sequentially-ordered through the academic year reflecting children's needs at different stages. Each year group works on the same Puzzle at the same time at its own level, deepening and broadening children's learning through Jigsaw's unique spiral curriculum:

Each year group or class have their own Jigsaw Friend to explore each unit of learning with: