Admissions
St. Aldhelm's Governing Body is the admission authority for this school. The School's Admissions Policy features our catchment area and over-subscription criteria.
Full details of the admissions process into our Reception class each September are given in the "Guide for Parents" available from the School Admissions Team at County Hall in Taunton or via their website at www.somerset.gov.uk.
Looking for a school place for your child for September 2024?
Open School Sessions will be held in early November. If you miss these, please call to make enquiries, arrange a visit or speak to the Headteacher.
Children come to us from a variety of pre-schools and nurseries: Cranmore and Doulting Pre-School, First Steps Nursery, Next Steps Childcare Centre, Willow Nursery and Pre-School, Little Wellies in Wells, Pilton Pre-School, The Bush Day Nursery. We have good links with our feeder settings and visit these in the Summer Term to provide a smooth transition for all children that join us for their primary school experience.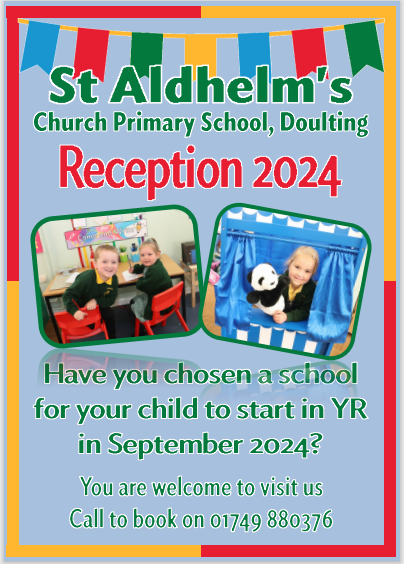 In-Year Applications
We have spaces in different year groups and welcome any enquiries about places for children to join us at any time in the year. Applications forms for entry into any year group during the academic year or classes other than Reception for September can be downloaded from our web site. Follow the link at the bottom of this page.
Applications will be processed as quickly as possible. For further information or help, please telephone the School Office on: 01749 880376.
If our school does not have enough places for all the children applying, the Admissions Authority, the Governing Body, will apply the Over Subscription criteria. For further details, please see the relevant Admissions Policy available below.
If St. Aldhelm's is unable to offer a place at our school, parents have a legal right of appeal to an Independent Appeal Panel. Follow the link for the Appeal Form below.
If you have any queries about the services provided by the local education authority in Somerset, you can call Somerset Direct on 0845 456 4038 or email schooladmissions@somerset.gov.uk.
Transferring Schools
Transferring to a secondary school is a vital time in every pupil's life and at St. Aldhelm's Primary School we aim to make this as smooth and effective as possible.
We achieve this in several ways:
The School has very close links with the local secondary schools into which our pupils feed.
Teachers visit each others' schools to work together and so become familiar to the children.
Pupils spend time with their new Tutors for Year 7 in the summer term before they transfer.
Pupils are placed into teaching groups with friends with whom they work well.
In this way, when your child starts at Secondary School in September, they will already be familiar with their new surroundings and the workings of the School.
Pupils transfer to a variety of secondary schools from St. Aldhelm's, including Whitstone in Shepton Mallet, Wells Blue in Wells and Ansford Academy in Castle Cary.
School Catchment Area
Please DO NOT rely on commercial house-selling websites' 'School Checker' information about our catchment area, as these are misleading.